For the last seven years, I held down a full-time job that obliterated any possibility of attending events like the BASS2016 European Double Bass Congress in Prague. The possibility of sneaking away to Prague for a week was out of the question.
How thankful I am that life has opened a door for me to attend events like this! Talk about a rejuvenating and transformative experience. Where to even begin…
From California to Prague
Flying from San Francisco to Europe is a long journey. After disembarking at JFK Airport in New York City, I headed to the bar for some much needed bass fuel (i.e. beer).
My Facebook post of this $12 beer prompted a flurry of likes and comments, and before I knew it David Murray was standing in front of me waving hello. We were both on the same flight to Prague, and he had seen that I was also waiting at JFK. Just one of many examples of how Facebook has knitted together the double bass community.
After a quasi-restful overnight flight to Prague, I found myself in an excruciatingly long customs line with David. After clearing the customs queue, we immediately bumped into David Heyes. David and his wife were meeting people at the airport. We had just finished welcoming each other when Petia Bagovska arrived. The gravitational force of bass love was in full swing!
David Murray and I split a cab to the city center of Prague, and I walked a few minutes to my Airbnb for a much-needed shower.
Heading to the HAMU
While checking my email post-shower, I felt my eyelids growing heavy. Knowing that falling asleep in the middle of the day was a sure way to screw up my sleep for the week, I forced myself off the couch and headed up the hill to Prague Castle.
I hate/love that there's a Starbucks at the top of the hill at the castle. While I drink my fair share of Starbucks back in the States, it felt anticlimactic to hike all the way up to Prague Castle only to be greeted by the familiar green and white logo.
I headed down the hill and back to the HAMU to jump on the weeklong double bass roller coaster.
My First Night in Prague
Though I was ridiculously jet lagged, I couldn't miss the opening concert on Monday night, and I'm so glad that I attended. The program featured a marvelous collection of Czech bassists and the winners of the BASS2016 competitions. Florian Pertzborn from Porto, Portugal announced the winners of the orchestral competition, and he and I got a chance to sit down and talk in-depth about this process for the podcast.
Right before the concert, I met Lloyd Goldstein, who I had interviewed for Contrabass Conversations earlier this year. Even though we only met a few months ago, I feel like I've known Lloyd my entire life. He and I spent most of the week together attending events and hanging out, and getting to spend time with him was one of the highlights of the event for me.
I also ran into Geoff Chalmers, who I also feel like I've known for years. Geoff is the founder of Discover Double Bass, and it was funny to watch people's reaction seeing the two of us hang out. "Hey, the Internet is here to visit!" said one person. I love it!
Geoff was only able to attend the first few days of the event, and I spent a lot of time hanging out and talking shop. Doing what I do is both a highly social and yet lonely affair, and it was so much fun to talk about all the geeky elements involved in running an Internet business.
As a beer lover, I was thrilled to discover that beer in Prague was cheaper than coffee and even water. The reputation of Czech servers as brusk is well-deserved (they are hilariously ill-tempered in general, though a few were really sweet), but I had many a good half-liter of Czech pilsner with good friends throughout the week.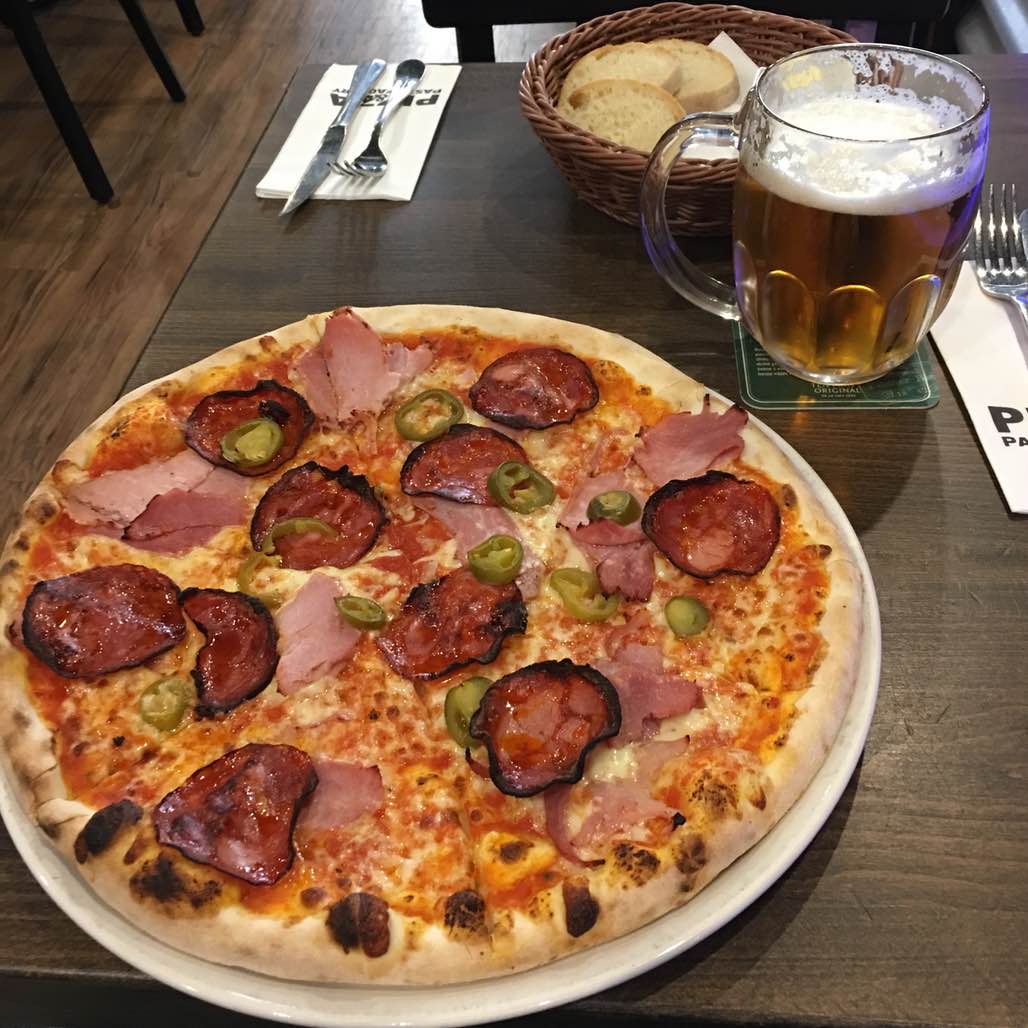 "I'm in Prague!"
A year ago, I was taking attendance and filling out institutional compliance forms (don't ask).
This year, I wake up and look out the window at castles.
This is a good development!
Over and over, I kept saying to myself:
I'm in Prague!
As an American who has spent most of his life living in massive metropolitan areas, it's refreshing to spend a week with Europeans. Sitting out in the the courtyard enjoying espresso and good conversation is a great way to start the day. There's a different pace of life in Europe than in the United States, and I find the change refreshing.
It's also extremely cool to see bassists with all these with cultural, economic, and language differences unite around the love of the bass. I find it incredibly insuring to sit around a table with people from the U.K, Italy, Serbia, Bulgaria, Portugal, and the United States and talk about all sorts of topics: bass strings, job prospects, favorite solos, new sound posts, and even the difference between espresso roasts.
The Hosts
Early on, I ran into Jiri Slavik, who I had interviewed back in 2009 at the International Society of Bassists Convention. He is the bass professor at the HAMU in Prague, and it was great to get a chance to catch up with him. He has a unique musical voice and style, and it was great to see him again after all these years.
I also got to connect in person with Ursula Dieterich-Pedersen, who coordinated the event along with her husband Jimmi Pedersen. Putting on something like this is staggeringly challenging, but it is such a massive win for bass community so hats off to both of them for putting on this event. As a former organizer for 10+ years of bass event sand countess the high school events, I know what they went through to pull off this event! It's satisfying and also totally exhausting.
Why I Love Bass Festivals
There's just something special about bass festivals. Anyone committed enough to put in the time, money, and planning required to attend an event like this, already has a lot in common with the other participants. You're typically once or twice removed from everyone at the event. It makes the world feel extra-small.
The Power of the Internet
The power of the Internet to bring like-minded communities together from all corners of the globe was evident throughout BASS2016. It's easy to learn about the recitals and presentations online, and it's easy to follow up and learn more about the individual after the event. The physical event itself becomes part of a larger dialogue taking place.
The déjà vu effect that Facebook creates was in evidence all week. I constantly felt like I was picking up conversations with old friends that I'd known for years, even though I was, in reality, meeting these people for the first time.
People Doing Great Things for the World of the Double Bass
Within moments of arrival, I was chatting with George Amorim, who I've known for years but have never really gotten the chance to hang out with for an extended period of time. The world needs more people like George. He has built a vibrant double bass scene through his work teaching at The University of Texas Rio Grande Valley, and the results were on display in his excellent bass quartet recital with his three students Andres Vela, Daniel Morehead, and Gabriel Preusse.
Accompanying them on the trip was Justin Writer, who arranged Peter and the Wolf for bass quartet… and narrated it! This arrangement is a wild ride and a totally cool new addition to the repertoire. Their second piece on the recital was written by quartet member Gabriel Preusse. These two pieces are major contributions to the double bass repertoire and would work well for all sorts of programs.
I would spend much of the week with George and a handful of other friends, and we all had smiles plastered on our faces as we saw one fantastic event after another.
Honestly, I don't even know where to begin with this list. Lloyd Goldstein and I were actually chatting the last day about coming up with a short thought about everything that we saw, and I think that's the only way I can even begin to approach this event.
So here is, in no particular order, a list of memories from BASS2016. I'm sure this is less than half of the people I interacted with during the week, so my apologies if I left you off the list!
If I've interviewed the person I'm mentioning perviously for the podcast, I've linked to it as well.
Favorite Memories
Wayne Darling – What a cool cat! Talking with you and Danny Ziemann was a super fun way to kick off the convention.
Danny Ziemann – Writing two books by your mid-twenties? That's amazing! Thanks again for doing the podcast, and I'm looking forward to seeing what you're up to in the near future. I'm sure it will be exciting! (podcast link)
Petia Bagovska – It was a pleasure to sit down and interview you for the podcast. I'm looking forward to sharing what you've done for the bass community in Bulgaria!
Geoff Chalmers – Man, I wish that we could have spent the entire week hanging out! I had such a blast talking with you those first few days. It's so helpful talking with someone who is working in the same space, and I can't wait to keep the conversation going! (podcast link)
Marc Ramirez – How great to hear your recital, and how great to see you again after nearly ten years! (podcast link)
Esra Gül – What a wonderful player and person you are! I was so thrilled to get a chance to know you, and I'll look forward to having you on the podcast.
Jiri Slavik – Kudos for hosting such a great event! I know what it's like being the host, and I know that we all really loved our time at the HAMU. (podcast link)
Ali Yazdanfar – I loved your master class and your workshop on bowing concepts and intonation. I'm still thinking about what you talked about in that class.
Ursula Dietrich-Pedersen – Thank you for getting me on board with this event. I am so glad that I came to Prague! (podcast link)
Jimmi Pedersen – Thank you for your leadership of this event. Also, I really dug your playing on the final concert.
Svetozar Vujic – I loved hearing your bass ensemble piece and finally meeting you in person!
Madeleine Crouch – How cool to hang out with you in Prague after all of those board meetings in Dallas! I know that you were having just as much fun as I was having. (podcast link)
Trevor Davis – Your bass sounded awesome, and it was a lot of fun getting to know you! Looking forward to having you on the podcast!
F. Günter Hoyer – What beautiful bows from Germany's oldest bowmaker!
Frank Proto – How cool to be able to meet you at this event and celebrate your 75th birthday with the Congress. Szymon Marciniak performed your Sonata No. 3 beautifully, and the surprise performance of your bass quartet was incredibly cool. (Podcast coming soon!)
Gerold Genssler – It was fascinating learning about your string-making process and philosophies. I look forward to more conversations in the future.
Marc Salter – Your endpins rock. It was great to get a chance to chat with you!
Frank Dittrich – I love that poplar bass of yours. It sounds and plays great.
Teppo Hauta-aho – Your contribution to the double bass world is staggering. There's a reason why Alberto Bocini and company put together a 4 CD set of your music for your 75th birthday!
Alberto Bocini – It was so great to meet you after all of these years. I loved hearing you play and getting a chance to hang out with you.
Gabriele Ragghianti – What a pleasure it was to hear you play and spend time with you in Prague! You're a great artist and a great person, and I can't wait to see you again soon!
Leon Bosch – What you're doing for the bass is inspiring. It was such a pleasure to spend time with you at the event! (podcast link)
David Heyes – So great to meet you in person! You've made a major contribution to the double bass world in so many ways.
Donovan Stokes – I feel like I've known you for a decade at least, though I'm pretty sure that this was the first time we'd actually met in person. The power of the Internet! (podcast link)
David Sinclair – How wonderful to listen to you play and spend time hanging out! Looking forward to seeing you again soon.
George Amorim – Even though we've known each other for years, we've never gotten a chance to really spend some quality time together. You're doing great things for the bass world and are building something powerful on a grassroots level. Every community should be so lucky to have someone like you!
Mark Wickham – I loved learning about your journey from jazz bassist to music therapist. Great hanging out with you!
Lloyd Goldstein – Wow—I don't even know what to say. It was such a pleasure spending the week with you and Mary Grace. I'm looking forward to many more such weeks in the future! (podcast link)
Rob Anzellotti and Chris Mathers – What a fun time hanging out with both of you! In addition to recording an interesting podcast on extensions, it was great to learn about both of your experiences in the New York bass scene and your current expat lives.
Barry Green – You're one of the real innovators in the world of music. I'm amazed and inspired by your passion for teaching people the love and joy of music. Thank you a thousand times over for what you do for the world of music. (podcast link)
Hans Sturm – Hans! It was great to see you play and spend some quality time together. I had such a blast talking with you for the podcast earlier this year. Thank you so much from bringing Mike Kocour and Heather Landes to Prague! I loved hanging out and catching up with all of you. (podcast link)
Adam Booker – Man, it was so great to hang out in person! I feel like we've known each other forever. Best of luck surviving the Arctic chill of Duluth, and I'll look forward to seeing you soon!
Volkan Orhon – I think that we passed each other in the hallway 25 times during the week! It was great to hear you play Teppo's piece. Beautiful playing! (podcast link)
David Murray – You always brighten my day! I was so thrilled to end up on the same flight with you. It's great to have a friendly face after getting off a transatlantic flight. Also, thank you so much for being on the podcast earlier this year. I can't wait to see you again soon! (podcast link)
Dan Styffe – I've known you virtually for years, but it was such a pleasure to spend time with you this week. You have been a major influence for so many bassists, and you humbleness and openness is inspiring. Looking forward to having you on the podcast soon!
Vassilis Papavassiliou – I had a wonderful time chatting with you after the final concert. I learned a lot about Bass Europe and its history thus far. Thank you for what you're doing for the European bass community!
Stefano Sciascia – You're one of the most interesting artists I've heard, and I always love catching up with you in person! Thanks for everything, and I hope to see you in Ithaca in 2017! (podcast link)
Hagai Bilitzky – I really wish that we lived in the same city. I think that it would be so much fun to hang out with you on a regular basis! I can't wait to talk with you for the podcast!
Michael Klinghoffer – What you do for the bass community is immeasurable. It was an honor to speak with you for the podcast earlier this year, and I admire so much your mission educating the next generation of musicians. (podcast link)
Christine Hoock – It was great to see you in person after interviewing you for the podcast! The Space Bass concert was wonderful, and I admire so much the way you're pushing repertoire boundaries for the bass. (podcast link)
Szymon Marciniak – I had a great time meeting you in person and hearing your performance of Shang Lu and Frank Proto. Wow! I can't wait to chat with you for the podcast—looking forward to it!
Evan Mitchell – Accompanying Szymon for the Lu and Proto is no small feat. Madeleine Crouch's idea of interviewing you about the experience of being a collaborative pianist is great. Looking forward to getting that set up soon!
Florian Pertzborn – What a pleasure to chat with you for the podcast! Kudos to you for your mission of providing real-world orchestral experiences to promising young artists. You're providing a valuable service to the next generation of artists.
Simón García – Simón! You're amazing! I don't know what to say. You're a vibrant compositional voice and are having a tremendous impact on the double bass world. If it was in my power, you would be at every single worldwide double bass event!
Bret Simner – It was so great to see you! I feel like we've seen each other recently, but that's probably from me watching your TEDx talk about the bass. I can't wait to get you on the podcast—you're someone that I've been wanting to talk with for years.
Nicola Malagugini – I had a wonderful time chatting with you throughout the week in the courtyard and learning about life in Sicily! Thank you so much for what you're doing for the world of the double bass, and I'll look forward to seeing you again soon!
New Directions for the Podcast
Notice how few of the people on the above list have been on Contrabass Conversations?
That's about to change this year.
I'm really looking forward to expanding the scope of the podcast outside of the United States. I've been working on that since relaunching, but going to this event turbocharges those ambitions.
Each of these people I referenced have so much that we can learn from, and my mission is to bring that knowledge to the greater bass community through in-depth conversation.
Expect to see episodes featuring most (or maybe even all!) of the above names on the podcast in the near future.
The Bass Revolution in Full Force
I frequently reference the "bass revolution" that the world is experiencing, and nowhere is it more evident than at an event like BASS2016. Every single recital I saw featured at least one new work for the bass, and several featured all new works. Technical fluidity for students continues to be higher than ever. Pieces we used to consider "college pieces" are now being played by high schoolers and even middle schoolers! Cultural and stylistic boundaries are being broken down like never before. Seeing bassists from across the globe playing bass ensemble music on a concert makes that visibly clear.
Thank you so much to everyone who helped to put on this event, and thank you to all the wonderful performers, teachers, students, and exhibitors who participated. You are all doing great things for the double bass community, and I can't wait for BASS2018!