After two decades in existence, it's remarkable to see what an impact this camp has had upon the bass scene here in the Bay Area. Each year, over a dozen faculty members congregate at the Drew School in San Francisco's Pacific Heights neighborhood for a week of teaching and performing with 40-50 bass students.
About the faculty
These faculty members span an enormous range of performing styles, from jazz bassists like Jeff Denson to electric bass virtuosos like Michael Manring. Rising orchestral stars like Joe Conyers and Dan Smith teach alongside artists like the always fascinating Donovan Stokes, and the whole event is coordinated by current camp director Richard Duke.
I had the privilege of joining the faculty in 2016 after moving from Chicago to San Francisco, and this camp is a real highlight of the year for me. I learn so much working with this great faculty, and the students are an incredible inspiration to work with.
The faculty for the 2018 anniversary camp included:
Some of these faculty members have been teaching with the Golden Gates Bass Camp for many years, while others were brand new additions for 2018. They are a groovy team of artists with an incredible array of specialities, and I find them endlessly fascinating.
Monday, June 18
The students arrive
Faculty and students began to trickle into the Drew School by 8 am on Monday. This is a great facility for an event like the Golden Gate Bass Camp, with an excellent recital hall and various rooms for sessions and small group rehearsals.
Here's a look at the week's schedule: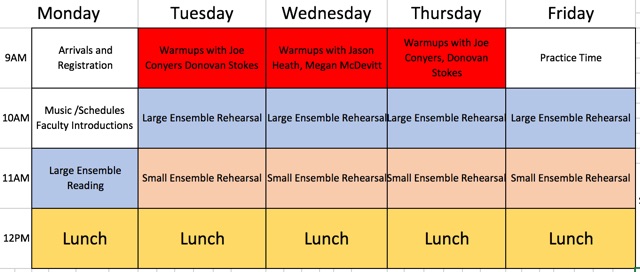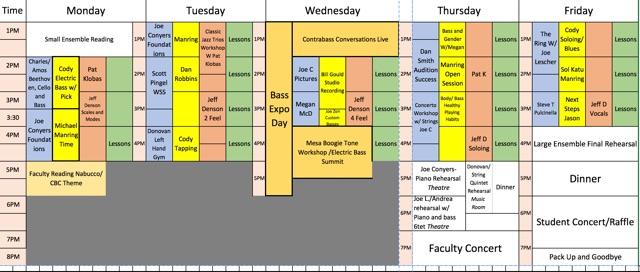 The large bass ensemble
Geoff Neuman, Donovan Stokes, and I split conducting duties for the large bass ensemble. This mainstay of bass festivals worldwide is a great way to collectively participate in a common activity before splitting off into smaller groups for the remainder of the day.
Donovan picked two arrangements: Hornpipe from Handel's Water Music and Gagliarda by Bakfark (what a name!). Both are arranged by Donovan's wife Inez Wyrick, who has arranged hundreds of pieces for bass ensembles.
Geoff conducted an arrangement by Richard Duke of Aese's Death by Grieg, and I picked an arrangement of Oye Como Va by Kiss My Bass. This Oye Como Va arrangement is quickly becoming a favorite of mine, and Gunn High School Orchestra Director Sandra Lewis supplied the group with a bunch of shakers and other percussion instruments to add some extra spice.
Small ensembles
We then split into small ensembles for the remainder of the morning. Megan McDevitt and I worked with a great bunch of middle and high school students. We ended up picking a Bach Chorale arrangement by Inez plus the excellent Star Wars bass quintet arrangement by former International Society of Bassists President John Kennedy. In addition to being a great arranger, John has taught at the Golden Gate Bass Camp many times in the past.
Each group had a slightly different slant in terms of repertoire. Michael Manring and Cody Wright paired up to work on improv using All Blues by Miles Davis. Jeff Denson and Pat Klobas put together a fun arrangement of Dizzy Gillespie's Manteca. Donovan Styokes did two more Inez arrangements: Brook Green Siuite by Holst and Vlad Tango by Firpo. Joe Conyers did another Bach Chorale arrangement by Inez and concluded with the extremely cool arrangement of Billie Jenna by past Golden Gate Bass Camp faculty member Andres Martin.
How afternoons are structured
Afternoons each day consisted of multiple tracks focusing on classical, jazz, electric, and other topics.
Charles Chandler and Amos Yang performed some cello and bass duet music and worked on orchestral passages like Beethoven 5. It was interesting to hear Amos' thoughts on tendencies of young bassists and what non-bassists hear in audition situations.
Charles is a long-time Golden Gate Bass Camp faculty member, and his enthusiasm for the instrument and discovering new and rarely played repertoire for the bass is quite inspiring. He and I had a great chat about his career on Contrabass Conversations last year.
Foundations of technique
Joe Conyers presented a session on the foundations of technique. I've been a huge fan of Joe ever since meeting him over 15 years ago. He is a great guy and is a monster player and teacher. It was so cool to see him dig into technique all week, and he's an incredible role model.
Outside of the bass, Joe directs Philadelphia's All-City Orchestra, and he is the founder and director of Project 440. He and I had a great chat a few years ago on the podcast, and it was a treat to talk about these projects about which he is so passionate.
The electric bass world
Cody Wright and Michael Manring both dove deep into the electric bass world all week, with open sessions, tapping basics, gear, and much more.
Cody has caused quite a bit of excitement in the bass world these past few years, and he has built a strong following on social media.
Michael Manring returns!
Michael Manring is a true bass legend, and I take every opportunity I can get to see him perform. He's one of those rare performers that makes me rethink the bass as an instrument, and he's constantly opening my mind to new possibilities.
Jazz fundamentals
Both Pat Klobas and Jeff Denson laid down the fundamentals of jazz in various sessions throughout the week. Pat is a seasoned pro in the Bay Area jazz world and is one heck of a classical bassist as well. He has been teaching at the Golden Gate Bass Camp since the early years, and it's great to see him making a difference with all of the bass students at camp.
About Jeff Denson
Jeff Denson joined the camp faculty in 2017 and has been a fantastic addition to the line-up. In addition to teaching at the California Jazz Conservatory, Jeff is an extreme envy active performer and recording artist. He has performed with Lee Kunitz for many years and has released many albums under his own name as well. Jeff and I chatted for the podcast in 2017, and his episode is a great deep dive into what a career of a successful jazz bassist looks like.
Private lessons
In addition to the large bass ensemble, small ensembles, classes, and clinics, each Golden Gate Bass Camp student gets two private lesson throughout the week. More advanced students might spend that time working on orchestral and solo repertoire with Joe Conyers or Donovan Stokes, while other students will spend the time working on technique fundamentals or ensemble music for camp.
Opera at the bass camp!
We rounded out the first day of camp with a rehearsal of San Francisco Opera principal bassist Joe Lescher's arrangement of an aria from Nabucco. The San Francisco Opera was in the midst of performing Wagner's Ring Cycle during camp, and the fabulous bass singer Andrea Silvestrelli (who also happens to be a double bassist!) joined us to perform Recitativo E Preghiera from Verdi's Nabucco plus Mozart's impressive and challenging Per Questa Bella Mano.
Tuesday, June 19
Mornings follow a predictable pattern at the Golden Gate Bass Camp, with a warm-up class from one of the faculty. It's interesting to see the similarities and differences in warm-up routines from Joe Conyers, Megan McDevitt, and Donovan Stokes.
Warm-ups are followed by large ensemble rehearsals, and the morning is rounded out by small ensemble rehearsals. These rehearsal hours move quickly as we all get ready for the finale concert on Friday.
Left and right hand "gym"
Tuesday afternoon, Joe Conyers took students through his "right hand gym," followed by Donovan Stokes doing a similar session for the left hand later that day. San Francisco Symphony principal bassist Scott Pingel also worked on the tricky bass parts from West Side Story, demonstrating fingering and bowing solutions he has discovered.
About Dan Robbins
Dan Robbins joined Michael Manring and Cody Wright for some electric bass explorations Tuesday afternoon. Dan is a compelling solo performer and creates all sorts of interesting sonic textures with his six-string Ibanez and various pedals.
Wednesday, June 20
Live podcast taping
We did a live taping of my Contrabass Conversations podcast to kick off a new offering at the 2018 camp: Bass Expo Day. This event featured gear from Mesa Boogie, Zon Basses, Darkglass Electronics, Acoustic Bass Shop, Steve Swan Double Basses, and Lemur Music, plus some really cool live offerings.
I was so pumped when Richard suggested the live podcast taping. I realized that my 500th episode was coming up, and what better way to celebrate a milestone like that than a live event?
Even better: we had a bunch of past podcasts guests serving as camp faculty, and we had a few "dream guests" that I hadn't connect with for the podcast.
Here's what the flow of the show looked like:
The show kicked off with a live performance (the first!) of the theme music from Eric Price, Megan McDevitt, Richard Duke, and Dan Robbins
Richard Duke shared the history of the camp and new changes since he became the director in 2012
Michael Manring and Cody Wright perform a burnin' duet
Alex Friedman of The Acoustic Bass Shop shared his journey into the luthier world
Joe Conyers talked about fitness and music careers
Steve Swan of Steve Swan String Basses discussed similarities between the guitar and bass world
Bill Gould (Faith No More) and Donovan Stokes chatted about how the music business has and hasn't changed over the years
Toni Buffa of Lemur Music talked about her company's recent move into the San Francisco Bay Area
Jeff Denson of the California Jazz Conservatory closed out the show with some solo bass improv
After the live taping, attendees had the chance to geek out on all the gear from these various companies. Bill Gould also offered up a recording studio class, Megan McDevitt explored contemporary music techniques on the double bass, and Joe Conyers dug into Pictures at an Exhibition.
Electric Bass Summit
The day wrapped up with an Electric Bass Summit featuring Joe Zon plus Zon artists Michael Manring, Cody Wright, and Jeff Denson. Dan Robbins joined the panel with his Ibanez 6-string and array of pedals and effects as well.
Topics in the Electric Bass Summit included:
how Joe Zon got into the business, and how he and Michael Manring first met
the stability that carbon fiber necks provide
the signal chain from bass to amp
how to prioritize gear upgrades
differences in various types of pickups and how they affect tone
What a cool session, and what a great chance to see all of these Zon artists onstage together!
Thursday, June 21
San Francisco Symphony assistant principal bass (and recent Contrabass Conversations guest!) Dan Smith kicked off Thursday afternoon with a quite popular class about audition success. Joe Conyers led students through a reading session with a string quartet of the various standard bass concerti, and students got their change to do a run-through of works like the Dragonetti and Bottesini Concertos.
Wide variety of sessions
Cody Wright, Michael Manring, and Jeff Denson all offered sessions in the morning, and Clark Brown (a great bassist and teacher who recently relocated to the Bay Area from Pittsburgh) joined me to discuss healthy body usage in bass playing.
Faculty Concert
Thursday evening, we had a killer faculty concert-—here's the program:
I had a blast joining Donovan Stokes for his concerto accompaniment with string quintet, and performing again with Andrea Silvestrelli, Joe Lescher, and all the other bassists involved in the Verdi performance was a real highlight for me.
The second half of the concert featured performances from Cody Wright and Michael Manring (jaw-droppingly good on both accounts), and we wrapped up the faculty concert with the Jeff Denson Trio performing selections from Jeff's latest album.
Friday, June 22
It always amazes me how quickly time seems to fly at the Golden Gate Bass Camp. Before I knew it, we were doing our final rehearsal for the student concert and putting finishing touches on everything.
Bass and gender
I had the chance to sit down with Megan McDevitt and chat about a topic about which she is passionate: Bass and Gender. This was a great conversation that I know will prove to be valuable to tons of people. Look for it on the podcast soon!
Joe Lescher ran a session covering some of the challenging passages in Wagner's Ring Cycle (no small task!), and Steve Tramontozzi covered Stravinsky's Pulcinella bass solo later in the morning. Megan did a class on bass and gender (about which she also presented at the 2017 International Society of Bassists Convention).
Final sessions
Pat Klobas, Cody Wright, and Michael Manring also presented sessions, and Scott Padden and I dug into next steps for bassists thinking about continuing to play music in college.
Donovan Stokes on gear
I also had a chance to chat with Donovan Stokes for a long-anticipated "round 2" for the podcast. We dug into all kinds of gear-related questions, and the discussion that resulted was fascinating. Look for it soon on the podcast!
Student Concert
We closed out the week with a great program of student performances from small ensembles and from the large ensemble. Here's a look at the final program:
Numerous items were auctioned and raffled off at the final concert, including:
Auction Items:
Zon Tribute Model 5 string Electric Bass
Darkglass Electronics- Vintage Deluxe Preamp Pedal
Dunlop – Crybaby Mini 535Q
Sub Octave Bass Fuzz M287
Mesa Boogie- Subway Bass D.I. Preamp
Pirastro Strings: Evah Pirazzi, Flexocor Deluxe, Flat Chrome Steel, Passione Stark
Raffle Items:
Lemur Bows + Case
Acoustic Bass Shop
Lemur double bass gig bag
Pirastro Passione Strings
D'Addario Strings
RJK Bass Evolution Hat