I had an absolute blast at the 2019 Pittsburgh Double Bass Symposium. I've been following along with this event for years, and it was such a pleasure to be there in person and a part of this event.
About the Symposium
The Pittsburgh Double Bass Symposium is a one-day annual event. It's free and open to the public, and it takes place in the Kresge Theater at Carnegie Mellon University in beautiful downtown Pittsburgh.
The Symposium features master classes, recitals, networking opportunities, presentations on various topics, and time to visit with exhibitors. It attracts bassists of all ages from throughout the region.
In addition to the strong double bass teacher and student community within Pittsburgh, large cities like Cleveland and Columbus are only a few hours away by car, so this event draws from several populous regions of the United States.
About Symposium Organizer Micah Howard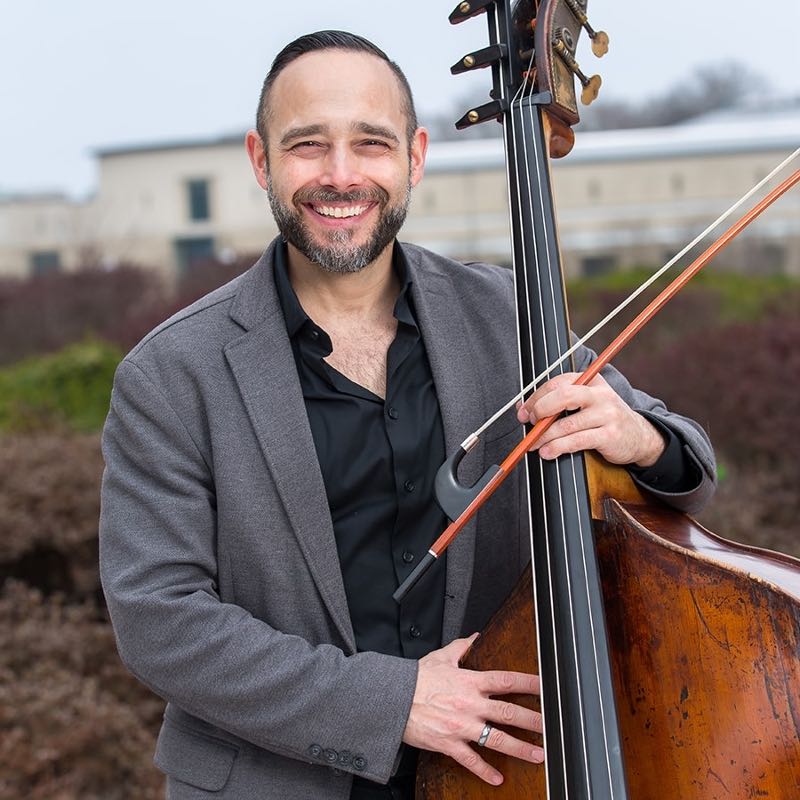 Pittsburgh Symphony bassist and Carnegie Mellon University bass faculty Micah Howard organizes the Pittsburgh Double Bass Symposium.
Micah and I had a great chat about this event, his career, and much more in an interview from 2018:
In addition to his bass teaching and performing, Micah is a long-time fan of technology.
iDouble Bass
Micah has also has created a really cool app for learning the double bass called iDouble Bass. We did a podcast this app when it was released in 2019:
Be sure to download iDouble Bass–great app!
Also, Micah has an app dedicated to the Pittsburgh Double Bass Symposium with all kinds of additional info. I don't know of any other one-day bass event with its own dedicated app. Cool and useful!
About the 2019 Symposium
Presenters
In addition to Micah and myself, the 2019 presenter lineup included:
Max Dimoff – Cleveland Orchestra principal bass and University of Michigan bass faculty
Rex Surany – Metropolitan Opera Orchestra principal bass and Juilliard bass faculty
Cory Palmer – Rochester Philharmonic Orchestra principal bass (and a Carnegie Mellon graduate!)
Jeff Mangone – Pittsburgh Opera principal bass and Duquesne University bass faculty
Jeffrey Turner – Indiana University bass faculty
Members of the Pittsburgh Symphony Orchestra double bass section
Gary of Upton Bass showing off a wide array of basses at the Symposium
Seeing the Pittsburgh Symphony Friday night
Even before the event kicked off, I had the chance to spend time with author, bassist, and clinician Barry Green. Barry recently moved back to Cincinnati after a couple decades of California living, and he drove over to Pittsburgh the day before to take in the event.
Barry is the new bass teacher at Ohio State in Columbus, and he has been busy building up a bass community at the school. Barry launched the first Ohio State Bass Day this fall, and I'm thrilled to be a part of the first Ohio State Bass Camp this June.
Barry and I met up for dinner before heading over to Heinz Hall for a Pittsburgh Symphony concert of Rachmaninov and Respighi. The orchestra sounded fabulous, and it was a great concert experience.
A Day at the 2019 Symposium
Cory's a great guy, and we had a great conversation about bass, life, commuting in winter weather, and much more! We've got a podcast chat booked for this spring, and it'll be great to dig into his background, auditioning, and a multitude of other topics.
In-person encounters with old and new friends
Additionally, I had the chance to met Brandon McLean for the first time in person. I had Brandon on my podcast back in 2016 when he won his job as associate principal bass of the Pittsburgh Symphony.
It was great to finally meet Brandon in person!
I also had a great time catching up in person with Gary Upton of Upton Bass. Gary is one of my favorite people, and I find myself getting pumped up and ready to tackle the future every time we get together.
It was also great to catch up with Andy Stetson of Cincinnati Bass Cellar and Neil from Guarneri House, and it was great to met Mike Shank for the first time. I love spending time with luthiers. Their career paths are really interesting to me, and the more I learn about the profession the more intrigued I become.
One of the other event sponsors was Sound Spike Endpins, which was started by Pittsburgh Symphony bassist Aaron White a few years ago. These endpins are totally cool, with a tip that will not dull with use and a bunch of other features that bassists will love.
10 am- Jeff Mangone – "It's All About the Bass"
Pittsburgh Opera principal bassist and Duquesne University bass teacher Jeff Mangone kicked off the day's presentations with a performance of Mozart's famous aria "Per Questa Bella Mano." Jeff was joined by bass baritone Tyler Zimmerman and pianist Mark Trawka.
11 am- Auditioning Panel Discussion
1 pm – Max Dimoff Masterclass
Max has been teaching at the University of Michigan for the past couple of years, and he has a cool co-teaching arrangement with Ranaan Meyer that the three of us discussed on a podcast from 2017.
2:30 pm – Pittsburgh Symphony Orchestra Double Bass Section in Recital
In addition to their musical excellence, it's remarkable what a collegial and relaxed vibe the PSO bass section has among its members. This is not the case in all orchestras, I can assure you!
The entire bass section was featured on this recital:
Joe Campagna
Jeff Grubbs
Peter Guild (CMU Faculty)
Micah Howard (CMU Faculty)
Paul Matz (One-Year Position)
Brandon McLean (Acting Principal)
John Moore
Jeff Turner (Former Principal and Special Guest)
Aaron White (Duquesne Faculty)
Concert Program
Passione Amorosa by Giovanni Bottesini, performed by Micah Howard, Jeff Turner and Rodrigo Ojeda
Sure on this Shining Night, Op. 13, No. 3 by Samuel Barber, arranged for double bass and piano by Jeff Turner, performed by Jeff Turner and Rodrigo Ojeda
"Devlali" for Unaccompanied Double Bass in Three Movements, for Rachel Martin by Hannah Ishizaki, performed by Peter Guild (world premiere)
Duo Concertante for Violin and Double Bass by Krzysztof Penderecki, performed by John Moore and Denis O'Boyle
Canzone. Andante from Concerto for Tuba and Strings by Arild Plau, arranged for Double Bass and Piano by Paul Matz, performed by Paul Matz and Rodrigo Ojeda
Sonata for Double Bass and Piano by Paul Hindemith, performed by Brandon McLean and Rodrigo Ojeda
Creep by Radiohead, arranged for Double Bass and Harp by Peter Guild, performed by Micah and Rachel Howard
"Dravo Shipyard", Duo for Two Double Basses by Peter Guild, performed by Micah Howard and Aaron White (world premiere)
Andante and Allegro from Sonata for Viola de Gamba and Keyboard No. 2 BWV 1028 by Johann Sebastian Bach, transcribed for Double Bass, performed by Aaron White and Rodrigo Ojeda
Allegro from Concerto No. 2 for Double Bass and Piano by Giovanni Bottesini, performed by Joe Campagna and Rodrigo Ojeda
Chant du Ménestel (Song of the Minstrel), Op. 71 by Alexander Glazunov, arranged for Double Bass and Piano, performed by Jeff Grubbs and Rodrigo Ojeda
Schubert Erlkönig arranged for Double Bass Quartet by Aaron White, performed by Jeff Grubbs, Paul Matz, John Moore and Aaron White
"Summer Breeze" (1972) by Seals and Crofts, arranged for Voice and Double Bass Quartet by Peter Guild, performed by Tania Grubbs, Jeff Grubbs, Peter Guild, Paul Matz and John Moore
6 pm – Cory Palmer – Masterclass
After dinner, Cory Palmer worked with several bassists in a masterclass setting. Prior to joining the Rochester Philharmonic Orchestra, Cory was principal bass of the Canton Symphony Orchestra, and he also played in the Sarasota Opera and the West Virginia Symphony in addition to subbing regularly with the Pittsburgh Symphony Orchestra.
It's going to be great sitting down with Cory to learn more about his audition preparation process for the podcast!
8 pm – Rex Surany – Recital
The 2019 Pittsburgh Double Bass Symposium wrapped up with a recital by Metropolitan Opera Orchestra principal bass Rex Surany. I had the chance to spend some time with Rex during my fall 2018 visit to New York City, and I also chatted with him for the podcast about life in the MET Orchestra, his career path, lessons learned along the way, and much more:
Rex played a tour de force program:
Adagio from the ballet "Unforgettable 1919" by Dmitry Shostakovich
The Great Green Sea Snake by Edgar Meyer
Sonata in A Major Op. 69 for Cello and Piano by Ludwig van Beethoven, transcribed for Double Bass and Piano
Suite No. 4 in E Major for Unaccompanied Cello by Johann Sebastian Bach, transcribed for Unaccompanied Double Bass
After Party
Micah Howard hosted a great post-event party at his place. Some of the Carnegie Mellon bassists had created this quite creative and eerily realistic set of Pop's Rosin Jell-O shots.
I mean, c'mon, who can't love this?!?
I also finally got the chance to meet Amanda Rice-Johnston, a bassist in the Pittsburgh area who I've known online for well over a decade. It was a lot of fun to chat bass, career, and many other topics, and it was such a pleasure to be a part of this rewarding day!
Final Thoughts
An event like the Pittsburgh Double Bass Symposium doesn't just happen by itself. It takes a heck of a lot of work in terms of planning and coordination, and a huge shout-out to Micah Howard for going above and beyond the norm in terms of attention to detail.
Every element of this event is first-class, from the app to the presenters, recitals, and all the other various moving parts.
I had a blast, and I highly recommend chatting out this event if you possibly can in future years. Be sure to check out Micah's excellent app iDouble Bass. I've been using with my students, and I have learned so much about good methods of sequencing material for beginners from it.
Sponsors
A big shout-out also to all the people who helped contribute to help make this event happen. Sponsors are a foundational element of an event like this, and it's go great that the following organizations were on board for the 2019 Pittsburgh Double Bass Symposium: